A festive roundup of powered access hire
JMS has taken a festive approach to powered access hire present to you a roundup of the recent social media campaign #TheGiftofJMS
So here it is … your one page round up of this year's campaign with useful links.
JMS presented a range of different products services in our recent Christmas campaign. Remember, if you would like to have a chat about powered access hire, you can talk to our team of experts on 0845 457 0000.
Not just for Christmas– health safety is important all year round. JMS bring the gift of secondary guarding accessories. Elf safety matters – so choose your secondary guarding options accessories from JMS.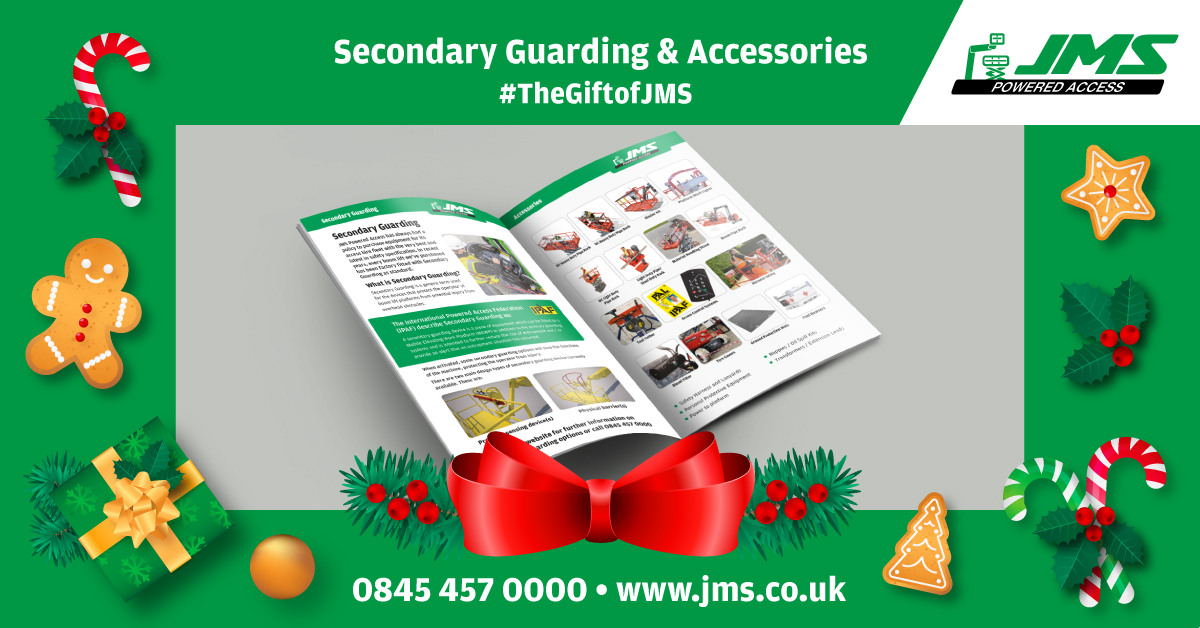 Education is the greatest gift. JMS bring you IPAF training at our accredited IPAF training centres, all year round. Book your space today.
Christmas elves love these! With the gift of low level access options from JMS you can work safely at low level. Available for hire is the Deskglider, for working over desks without the risk of slips falls. A safer way to put the shining star at the top of the tree.
By the way, for other low-level applications, JMS has a whole range of low-level access hire options including the Power Tower, Ecolift, Pecolift, Popup or Boss options.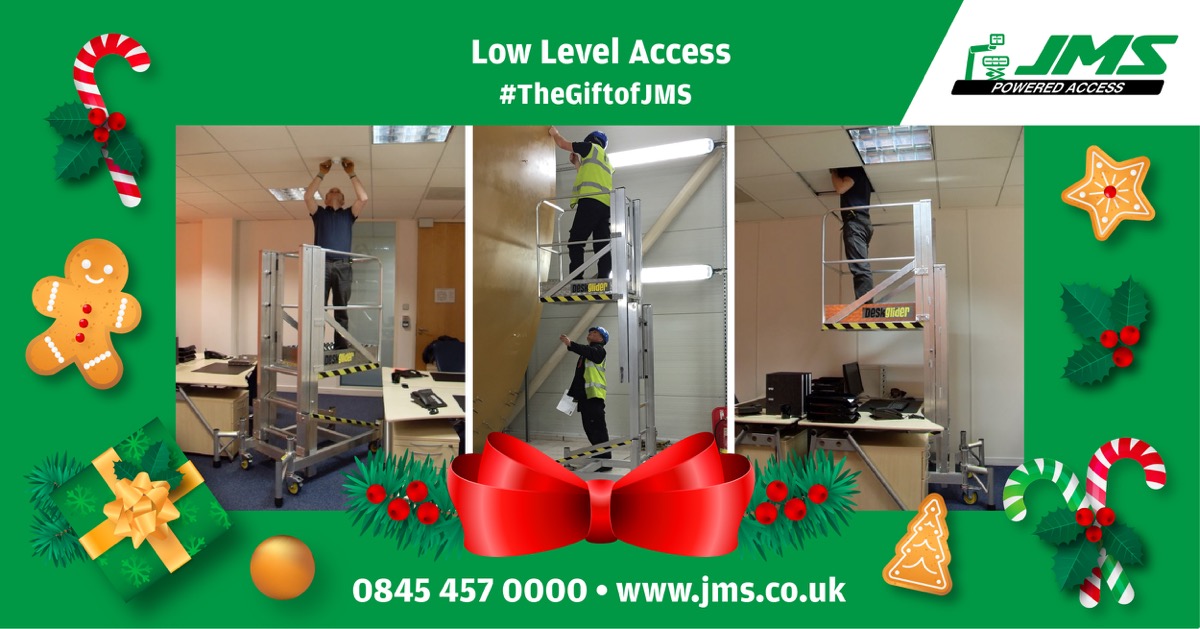 We'll beat any selection box with our range of scissor lifts for hire – choose from powerful diesel options to eco-friendly electric models. Work heights from 5m to 34m, there are plenty of popular options available.
Booms are booming. JMS bring the gift of diesel booms. Powerful diesel engines can work on site all day long in tough outdoor conditions (a bit like Santa) Electric boom lifts are available for hire too.
Spider Boom Hire – We're walking in the air! Well, not quite but you can reach spectacular heights with our range of tracked spider booms. Max working heights from 15.40m to 52m. Suitable for difficult terrains.
Don't forget, our tracked boom information centre is a useful reference guide on how spider booms can be used.
Damage Waiver Scheme – Don't let damages to access dampen your festive spirit. JMS bring the gift of damage waiver to protect your hire options. Not just for Christmas.
Special delivery – JMS bring the gift of same day delivery, collection – all year round.
Christmas tis the season of giving, that's why JMS is gifting you with our latest edition of the pocket product hire brochure. A real quick easy guide for hiring with JMS.
Get your online copy here, Download – Pocket Product Hire Brochure.
The Gift of JMS – Pocket Product Hire Brochure – Download your free copy now
Day 10 – Festive service all year round
JMS stay festive all year round we're happy to help with your projects – no matter how big or small. Stay tuned to www.jms.co.uk for news. Don't forget to subscribe to our newsletter.
Subscribe to the JMS newsletter.
Miss it, Miss Out
That rounds up our range of gifts from JMS. Our service is all year round. Stay tuned with our blog social media to keep ahead of all things powered access. If you're not already following us, you can keep in touch with us on Linkedin, Twitter, Facebook.
Nationwide Service
All powered access equipment is available for hire nationally through JMS's depots in Harpenden, Hertfordshire, Leeds, West Yorkshire, Pinewood Studios, Bucks Radlett.
For information about hiring powered access equipment for your projects, contact JMS today on 0845 457 0000 or email hire@jms.co.uk