Introduction to Tracked Booms
Increasingly – many job sites present difficult height access challenges, especially with modern building architecture. This is where Tracked booms come in. Mounted on Caterpillar type crawler tracks they provide access to demanding locations – externally and internally – easily, safely and efficiently.
So you want to hire a spider boom? Click here to discover why you should hire from JMS Powered Access.
Tracked booms are compact & agile
Many locations can only be reached through doors or alleyways, this is no problem for a tracked boom. With their compact design, they can fit through every standard single or double door. Whilst driving to the job location, difficulties like corners and other constructional obstacles may be a problem. The track chassis allows simple sensitive manoeuvring through tight spaces and around obstacles. Narrow gates in parks or building grounds can be traversed easily. In particular, modern shopping centre atria can pose problems with narrow access but with high reach applications. Tracked boom platforms such as the Teupen Leo 23GT and the Hinowa Lightlift 26.14 can often be found at retail centres.
Red – Yellow – Blue – The same control concept for all lifts: the controls have a well arranged, colour coded operating panel. With a minimum number of joysticks selection switches, operation becomes easy, intuitive and safe.
Light & gentle Spider lifts
Limited floor load capacity or delicate floor types are a problem for self propelled boom lifts as they are heavy and bulky . Track mounted boom platforms benefit from low overall weight balance under the non-marking rubber tracks – particularly useful in complex applications where floor loads are critical. Protecting delicate floor finishes by spreading the weight of the track boom via the stabilsers.
Compact, light, manoeuverable and quick to set up – with tasks in which time is of importance, a versatile and highly mobile solution is required!
Tracked Booms are versatile all-rounders
More versatile than all other aerial lift categories combined: compact like a scissor lift, light like a trailer mount, mobile like a truck-mount enhanced performance over a heavier self propelled boom lift. Tracked booms provide height access solutions that cover more than the ordinary – it can master more complicated access problems. Everything from a robust tree care job to demanding internal building applications.
Highly challenging jobs outdoors often take place in difficult-to-reach areas or on rough terrain – no problem at all for the tracked boom.
View our Gallery for pictures of tracked booms in action
JMS have a selection of tracked booms powered by Lithium Ion batteries.
Tracked boom capabilities
Many track mounted booms have unique attributes over other forms of powered access. We take a look at just a few of the key areas that set tracked booms apart.
Slopes & stairs
Thanks to it's powerful tracks, these spider booms can drive on slopes up to 30% inclination and even have the ability to climb stairs.
Doors & alleyways
With stowed widths of 78cm, 98cm or 1,58m all models of tracked booms fit through standard doorways – some single, some double doors.
Stabilisation & leveling
All boom models come with an automatic leveling system. At the push of a button, the boom lift can be positioned into a safe working position.
Exact manoeuvring
Proportional joystick controls the precise track chassis give the operator the ability to manoeuvre the lift with precision.
Precise basket positioning
Solid durable boom design with enormous reach and smooth controls allow exact drive to the working location.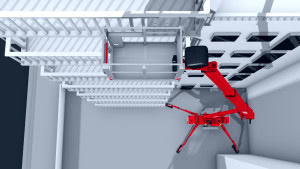 Low space requirements
The stabilisation also functions on different height levels offers various setup positions for job sites with limited space or footprint.
If you'd like to discuss tracked boom hire, please contact JMS team we'll get our tracked boom experts to call you back