Tracked spider lift accelerates complex tree felling task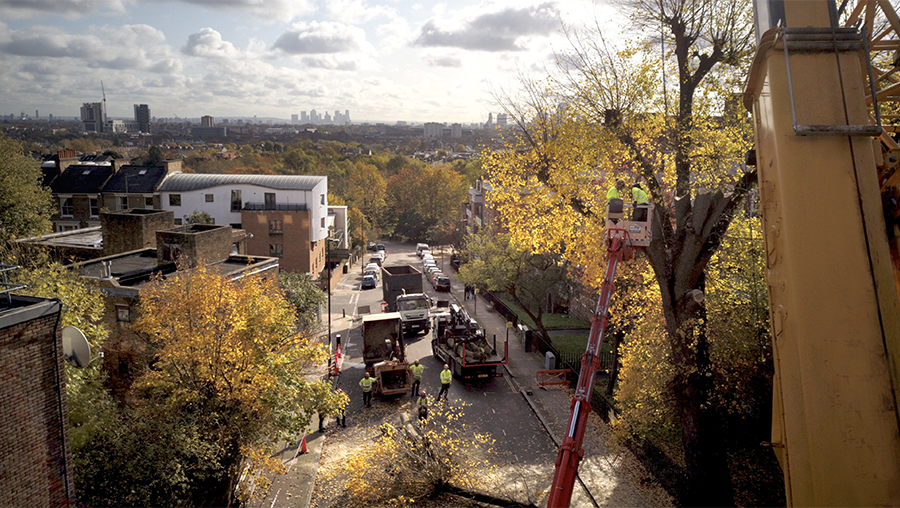 A tracked spider lift hired from JMS has helped arborists fell a large diseased tree in a city street quickly and safely – minimising disruption to residents and road users.
The Teupen Leo 36T spider boom was operated in tandem with a mobile crane to take down the 120-year-old hybrid black poplar tree in Islington, North London, after it was found to be dangerously unstable.
The pollarded tree had been much-loved by the residents. But Islington Borough Council had no choice but to arrange to have it felled because ultrasound tests showed 50% of the tree stem was diseased.
Selecting right spider boom
A team from tree surgeons Gristwood & Toms carried out the tree felling work and sought advice from access platform hire specialist JMS to select the right tracked spider boom to use.
Jim Mead, Area Manager for Gristwood & Toms, said: "Initially, we were going to use a self-propelled boom, but we found the camber in the road meant we would not achieve a level set up.
"JMS recommended the Teupen Leo 36T spider lift because its compactness meant we could operate it how we needed to, close to the crane and at a safe distance from the tree.
"The Teupen Leo turned out to be an excellent choice. It provided very good stability and articulation, plenty of basket room and capacity for our operatives to work safely on the tree.
"Also, as the road had to be closed, we wanted to complete the job quickly, we got the tree down in just one day. Felling such a large tree conventionally by climbing, instead of using a platform, would have taken up to three times as long."
Teupen Leo spider platform ideal size
The Teupen Leo 36T diesel-powered spider lift has a maximum working height of 35.5m, a maximum outreach of 15.6m and a platform capacity of 200kg.
The tracked spider boom has an articulating jib which can be moved through 1800. Its basket can rotate through 1800 and the boom turret through 4500.
Because the tree was so unstable, it was important that the mobile crane and the spider lift were located outside its footprint. The Teupen Leo's compact size meant it could be placed just in front of the crane, so the tree could be soft-felled, reducing shock loading on the trunk.
JMS Managing Director Mark Jackson said: "For such a compact spider lift, the Teupen Leo 36T provides outstanding working height and reach, a combination that proved essential with this tree felling project.
"This project demonstrates that sometimes a very specific platform is needed. Insights gained from listening closely to clients, like Gristwood & Toms, continuously inform our investment plans so we have safest and most productive platforms ready for hire, whatever the task."
Faster tree felling with platforms
JMS Sales Marketing Director Scott Walker said it was touching to see the love that residents showed for the tree. "There were people coming out to say goodbye to it, like it was a friend," he added. "They were clearly upset.
"This points to the need to fell such trees as quickly as possible. Using access platforms to speed up the felling process supports this as it will shorten the period of anxiety experienced within the community."
Jim Mead said tree service specialists are increasingly using access platforms to enhance safety and productivity. This trend will accelerate, he added, due to the rapid development of two key tree-related problems in the UK.
Ash dieback, a disease threatening to kill millions of trees, and the processionary oak moth (POM), which has highly toxic caterpillars and nests, are increasingly preventing tree surgeons from climbing trees.
JMS offered a wide variety of access platform hire options for tree service clients. These include self-propelled booms, truck-mounted booms, and tracked spider lifts.
Key platform brands include Genie, Haulotte, JLG, Teupen, Hinowa, and Niftylift.
For more information about access platform hire for tree services companies, call JMS today: 0845 457 0000.