Rough terrain scissor lifts go electric
JMS has added the new 18m electric-powered scissor lift to its hire fleet as customers, notably in the construction industry, want greater flexibility and sustainability when working at height.
The Haulotte HS18 E PRO is now the tallest all-electric rough terrain scissor lift available in JMS's rapidly growing fleet of electric-powered access platforms, providing zero emissions, low noise, and low carbon operation.
The HS18 E PRO scissor lift represents a complete rethinking of mid-range rough terrain scissor technology, says Haulotte, with many innovations to improve operational performance and safety.
JMS Director Justin Lynn said: "Introduction of the Haulotte HS18 E PRO rough terrain scissor lift to our hire fleet keeps us at the cutting edge of new thinking in sustainable working at height.
"The powered access industry, like other sectors, is moving towards all-electric power. It allows users to minimise their carbon footprint and work in sensitive areas, such as low emission zones.
"Also, electric scissor lifts like the HS18 E PRO allow construction contractors, in particular, to work more flexibly. They can have one type of machine on site that can operate indoors and outdoors, reducing the number of platforms needed, simplifying supply chains, and reducing costs."
Low noise operation – Haulotte has worked hard to make HS18 E PRO particularly quiet, even for an electric scissor lift – is also often very useful when working around hospitals, schools and care facilities.
Exceptional performance
Haulotte HS18 E PRO rough terrain scissor lift has a maximum working height of 18m and a load capacity of up to 750kg, which means it is ideally placed to become a workhorse of large shed cladding, insulation and roof installation. The platform can also be extended to 7.40m (19ft) when both extensions are deployed further increasing its flexibility.
To deliver high performance on rough terrain, the HS18 E PRO scissor lift has heavy-duty axles similar to a telehandler. The front axle is oscillating. The rear axle has a differential lock to aid performance on uneven ground and provide 40% gradeability.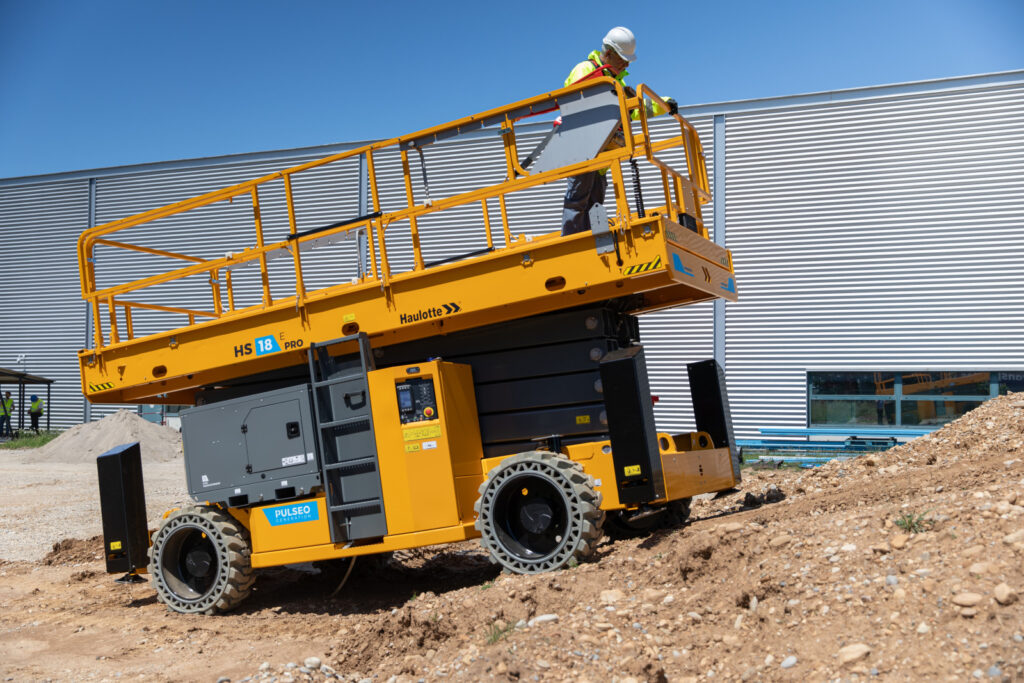 Battery innovation
Lingering concerns about electric scissor lifts include worries that they could run out of power and that they are less simple to maintain than diesel platforms.
Haulotte has addressed these issues directly with the HS18 E PRO scissor lift. It has a new power management system, called Activ'Energy, that maximises operation time, so users do not have to worry about conserving power.
The HS18 E PRO scissor lift has a 48V battery pack to deliver the necessary power for a full day's work. Haulotte has built in three ways to charge the platform for optimum flexibility and to eliminate down-time:
A primary charger to recharge the batteries from a standard 110-230V single-phase network.
An optional three-phase accelerated charger that delivers an 80% charge in just 3 hours.
A 5.5kW removable interchangeable range extender for rapid recharging while the machine is operational.
A digital monitoring system, called Activ'Screen, simplifies day to day maintenance of the machine, by highlighting potential issues, allowing them to be resolved quickly without the need for engineer call outs.
The scissor lift's Activ'Shield Bar system, adapted for scissor lifts, gives added security against injury from entrapment. If the operative is pushed towards the bar, the machine stops automatically.
Electric takeover
Until recently, only a diesel machine would have been considered suitable for working over rough terrain or when there was a need for a large platform capacity, for example for cladding installation.
Now the Haulotte HS18 E Pro proves electric scissor lifts are a valid alternative. In fact, said JMS's Justin Lynn, it will not be long before using electric scissor lifts for external working at height will be the norm.
Haulotte lift hire
JMS supplies a range of Haulotte powered access including low level access, mast boom lifts, diesel and electric scissor lifts and diesel boom lifts.
All machines are available to hire across the UK from JMS hire depots in Harpenden, Leeds, Dartford Radlett.
To hire the Haulotte HS18 E Pro electric scissor lift or another machine in the JMS fleet, call the hire team on 0845 457 0000 or email hire@jms.co.uk