New Hinowa 15m tracked boom lift
JMS tracked boom hire fleet has gone from strength to strength in 2016.
Always keen to bring you all the main industry news – we see the very latest addition to the range of Hinowa Tacked boom lifts (link) has arrived.
Hinowa is adding a 15m machine to its growing range of high quality tracked boom lifts.
The Lightlift 15.70 Performance IIIS, a 15.4m working height crawler-mounted boom, will be on show at Bauma 2016 available to order from July. Like other Lightlifts, it is available powered by Lithium-Ion batteries, providing clean, quiet, emissions-free operation.
The fourth model in Hinowa's Lightlift Performance IIIS range, it has compact dimensions, with an overall length of 4.02m, width of 0.78m stowed height of 1.99m. Length is further reduced to 3.4m with the platform cage removed. Weighing just 1,950kg (petrol version), it is a lightweight machine.
The 15.70 has superb working envelope, providing outreach of 6.6m while elevating to 10m, still working flush to a wall. The machine can lift 230kg – enough for two people with tools – without restriction throughout its entire working envelope. Platform rotation is offered as stard.
Mounted on a crawler chassis, the LightLift 15.70 has very low ground pressure non-marking tracks, making it ideal for working indoors on sensitive flooring; as well as outdoors on soft
ground. It has a compact stabiliser footprint of 2.8m x 2.8m is available powered either by a Hatz diesel engine, Honda petrol engine with electronic rotation control, or Lithium-Ion battery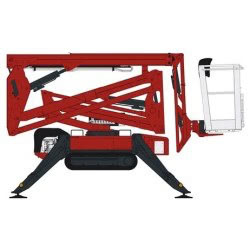 pack. The drive train has a three-speed system which ensures it reaches the work area quickly.
Furthermore, Hinowa is giving its Lightlift 17.75 Performance IIIS Lightlift 20.10 Performance IIIS an upgrade to create Mark 2 versions. Key enhancements include a new basket design, a single key starting system, LED lights on the outriggers, new remote controller box the option of an anti-entrapment system.
Bauma takes place in Munich Messe from 11th – 17th April. Visit Hinowa on St FS.1103/8 also in Hall C4, St 325.