JMS powered access hire division helps hit TV show
JMS were delighted to help on the recent production of ITV's hit TV series Mr Selfridge, the drama chronicling the rise of one of the legendary department store Selfridges.
Working closely with the production team, JMS delivered a range of machines to help the tv crew work safely at height. As with many media jobs the JMS site recce service helped to establish the most appropriate access platforms for filming, from quiet emission-free electric booms to large scissors suitable for lighting rigs.
Tim Kendall, JMS Media Consultant works closely within the media industry, "Our TV film customers benefit from hiring from the most modern powered access fleet in the country. Our quick delivery a firm understing of the time pressures placed upon TV film crews help our customers have powered access equipment to h when where they need it"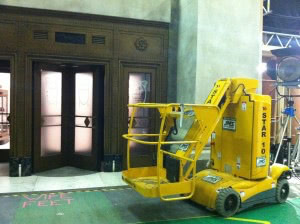 Here's the Haulotte Star 10 Mast Boom outside the famous store. Its nimble manourvring, clean electric power compact footprint makes it a useful addition to TV set.
The Genie Z33/28 Electric Boom Lift ready for action, provides access up to 12m a useful working outreach of 5.57m. Equally at home indoors outside on flat surfaces.
JMS has a Media Specialist team at the office at Pinewood Studios, however our booms scissors are on hire across the UK. Ask to speak to our experienced media staff here on 0845 467 0000.
… here at JMS we never forget, as Harry Gordon Selfridge put it, "The customer is always right"