7 reasons why spider booms from JMS are the first choice for heritage sites
Tracked spider booms are often used for work on listed and historical buildings and other heritage sites due to their fragile nature.
There are also frequent difficulties with access to heritage sites both internally and externally.
Spider booms offer a range of properties that make them the idea machines for tackling fragile buildings and other historical sites.
Gradeability – Heritage sites tend to present challenging environments both indoor and outdoor. Rough or unstable ground is not uncommon around historical buildings. Tracked booms are suitable for a wide range of challenging outdoor terrainsthat present rough or unstable ground, including woodland, scrubland, and agricultural land. Tracked booms are known for their excellent gradeability.
Compact – Spider tracked booms are both agile and compact, with models that can fit through standard single doorways, down narrow alley ways and turn on their axis. 
Sustainability in sensitive environments – Machines fitted with long-lasting lithium batteries, provide low-noise, which is ideal for churches and religious sites. Electric tracked booms using lithium ion batteries for power also offer low emissions which makes them a sustainable hire option. With so many historical buildings right next to people in offices and homes, not to mention passers-by, it makes sense to go electric.
Sensors and alarms – Listed buildings are often fragile, especially Grade I and Grade II buildings. Tracked booms fitted with collision alarms as standard protect the operator, the machine and surrounding structures.
Low loading – Tracked booms have a low point load weight makes them ideal for operating on delicate floors, often in conjunction with protective matting.
Control of kit – The same control concept applies for all lifts: the controls have a well arranged, colour coded operating panel. With a minimum number of Joysticks and selection switches, operation is easy, intuitive and safe. Precise controls prevent collisions and pace work teams exactly where they need to be to do delicate conservation work. Articulating spider booms are also necessary for this level of control.
Productivity – Tracked booms are versatile and can be operated at different heights over different obstacles allowing the operator to complete tasks safely with sensor alarms and anti-collision kits.
These capabilities often make tracked booms the powered access machine of choice when working in heritage buildings, including churches, castles and stately homes, which often have restricted access, delicate and low load weight floors, and confined working spaces.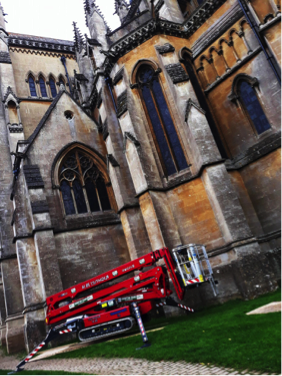 Hinowa Lightlift 26.14 Performance IIIs spider boom
The Hinowa Lightlift 26.14 llls tracked platform has a working height of 25.7m and a maximum outreach of 13.75m and is compact, lightweight, versatile and has non-marking tyres.
The tracked boom uses a lithium battery making it an emission-free and quiet machine. These are the best powered access machines for supporting building conservation projects. The lithium battery maintains high power levels for long periods, as well as fast recharge times which is ideal for working at height in historical buildings heritage sites.
JMS aerial platforms for Heritage Sites
Mark Jackson, Managing Director of JMS says: "The Hinowa 26.14 has been a popular choice this year for places of interest. Earlier this summer the same model was used for restoration of the Grade 1 listed Temperate House, in the Royal Botanic Gardens, Kew. Going forward we look forward to working with more heritage site and listed building projects."
The five-year restoration project of Temperate House included engineers and conservation workers moving 15,000 panes of glass in a complete reglaze of the glass house, and cleaning, re-painting and renovating the steel-structured building, the largest surviving Victorian glass house in the world.
Nationwide service
Tracked booms are available to hire from JMS. Check out the JMS tracked boom information centre for more detailed information.
To find out more about hiring tracked boom for your project, give JMS a call today.
If necessary, JMS can supply trained and highly-experienced powered access operators to support your project. JMS also deliver a range of training, including IPAF training, so your team can always work safely at height.
Contact JMS Powered Access on 0845 457 0000, or email hire@jms.co.uk